Using our PayPal Gateway, place your order with a Credit or Debit Card – just click the Buy Now Button and then make your choice. Feel free to call us at 903-629-3034.
A Side Of Beef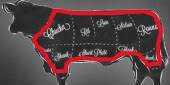 Whole Side includes all primals, organs and bones, ready for pick up or delivery.
Deposit of $250.00 required
A Beef Quarter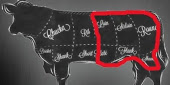 Because, the cuts of meat in the front half differs dramatically from the back half, we evenly divide the cuts between the two to make it a fair offering. Read More
Deposit of $250.00 required
A Whole Hog Side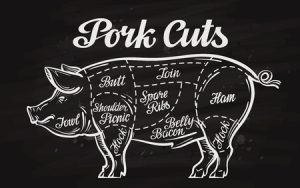 We sell whole pigs or sides of pork. How Much Does a Side of Pork Cost? We charge $4.50 per pound for a whole hog and Read More
What happens when we take your order for a quarter/half or whole beef or a Pastured hog?
When you place your deposit, we call you to fact find about your order for a quarter/half or whole – beef or pork, we will give you a date when it will get an appointment go to the meat processor. When the animal goes to the processor you will call and speak to the friendly and knowledgeable owner about how you want your meat cut. The carcass will then dry-age in a climate controlled cooler for 7-10 days before being custom cut. The reason it is dry aged, is that dry-aging helps tenderize the meat. Cutting, packaging and freezing takes another 2-3 days, so your order will be ready for pickup about two weeks after the date the animal went to the processor. You will pick up the meat at the processor, and at that time, we ask that you pay them for processing. This is a separate check to the one to Falster Farm for hand raising the steer.
Our guarantee:
What happens if there is something wrong with your beef? It's wonderful to have a freezer full of beef that you can feel good about eating, unless, of course that beef just doesn't taste good. Unfortunately, there is plenty of poor quality beef on the market, especially grass-fed beef. The reality is that it takes a great deal of skill and the right genetics to finish cattle properly on grass alone. Too many producers take short cuts, offer you a "cheap" price on their beef, but then don't want to assume responsibility if their beef is just not up to par. Yet, the last thing you want to do is spend hundreds of dollars on a large order of beef only to find that it tastes like shoe-leather, and the only thing you can do about it is throw it away.
Our pledge: If you are not satisfied with the quality of the beef you ordered from us, we will buy it back from you.